Malachi
Lewis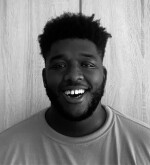 Company Affiliations: Boy Blue, Konverse, R vision films.
Credits: Queens Platinum Jubilee, Born To Protest (Tour), R.E.B.E.L, Giggs, Lost (secret cinema).
Bio: Malachi is a creative artist based in East London. He's been a member of award-winning Hip Hop company: Boy Blue for over 10 years, Performing various different stages and theatres across the country. Malachi has been fortunate enough be part of various different productions, films and projects on stage and behind the scenes, he's recently been on tour with Born To Protest performing nationally with some international dates. 
I enjoy working with the Barking Abbey Dance Department because the energy is unmatched! Students with amazing talent, always eager to learn and develop. Two amazing teachers that will go above and beyond for their students and craft! 
Instagram: @malachizzle_