Pupil Premium & Year 7
Catch-up
PUPIL PREMIUM STRATEGY 2021-24
This statement details our school's use of pupil premium (and recovery premium for the 2021 to 2022 academic year) funding to help improve the attainment of our disadvantaged pupils.
It outlines our pupil premium strategy, how we intend to spend the funding in this academic year and the effect that last year's spending of pupil premium had within our school.
We have focused on a small number of priorities in areas that are likely to make the biggest difference, with a focus on effective implementation. Our evidence for these strategies is based on research by the Education Endowment Foundation: Using pupil premium | EEF (educationendowmentfoundation.org.uk). We use a four-step approach: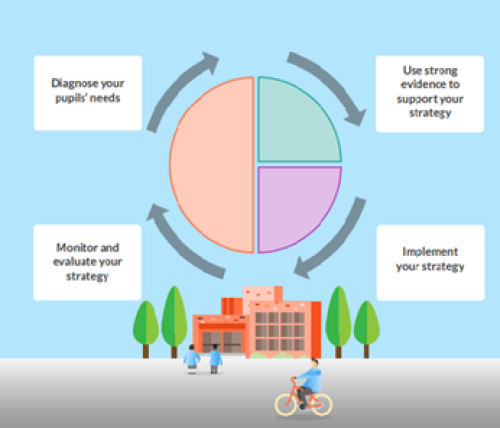 School overview
Detail

Data

School name

BARKING ABBEY

Number of pupils in school

2315

Proportion (%) of pupil premium eligible pupils

28%

Academic year/years that our current pupil premium strategy plan covers (3 year plans are recommended)

2021-2024

Date this statement was published

OCTOBER 2021

Date on which it will be reviewed

SEPTEMBER 2022

Statement authorised by

TONY ROE Headteacher

Pupil premium lead

PETE FLAXMAN

Senior Deputy Head

Governor / Trustee lead

Mr J Collins and Ms L Thomas Brown
Funding overview
Detail

Amount

Pupil premium funding allocation this academic year

£445,402

Recovery premium funding allocation this academic year

£64,670

Pupil premium funding carried forward from previous years (enter £0 if not applicable)

£0

Total budget for this academic year

If your school is an academy in a trust that pools this funding, state the amount available to your school this academic year

£510,072
Part A: Pupil premium strategy plan
Statement of intent
Our intention is that all pupils, irrespective of their background or the challenges they face, make good, sustained progress and achieve high attainment across the curriculum.  As a school of Character, we also recognise the importance of preparing all our pupils for future pathways and lifelong learning. This is based around our BEST Habits: Bravery, Excellence, Self-Discipline and Teamwork.
The focus of our pupil premium strategy is to support disadvantaged pupils to achieve that goal, including the Most Able. We will consider the challenges faced by vulnerable pupils, such as those who have a social worker and young carers. We are also aware that many within our community have suffered during COVID and have experienced significant changes to their circumstances. Mental well-being is a particular focus, and additional funding has been allocated to increase support capacity. To achieve, our community need to be in school and in good health.
Quality First Teaching is at the heart of our approach. This is proven to have the greatest impact on closing the disadvantage attainment gap and at the same time will benefit the non-disadvantaged pupils in our school. Implicit in the intended outcomes detailed below, is the intention that non-disadvantaged pupils' attainment will be sustained and improved alongside progress for their disadvantaged peers, as the school aims for a Progress 8 score of +0.5.
Our strategy is also integral to wider school plans for education recovery for pupils whose education has been worst affected, including non-disadvantaged pupils. The level of deprivation in our community meant that large numbers of families had limited online access during lockdown.   
Challenges
This details the key challenges to achievement that we have identified among our disadvantaged pupils.
Challenge number

Detail of challenge

1

Literacy and Numeracy skills entering Year 7 are lower for pupils eligible for PP than for other pupils, which prevents them from making good progress in Year 7. COVID has meant no Key Stage 2 scores; Reading Age Tests are taking place in Autumn 2021 using newly purchased software.

Current Year 9 2021-22

| | | | |
| --- | --- | --- | --- |
|   | AVERAGE SCALED SCORE | AVERAGE READING SCORE | AVERAGE MATHS SCORE |
| PUPIL PREMIUM | 104.2 | 104 | 105 |
| OTHER | 106.3 | 105 | 107 |

2

Lower and Middle ability pupils who are eligible for PP are making less progress than other lower and middle attaining pupils. This prevents sustained high achievement through KS4 (awaiting confirmation on Prior Attainment with Scaled Scores 2021).

Year 11 2018-19

| | | | |
| --- | --- | --- | --- |
|   | LOW | MIDDLE | HIGH |
| PUPIL PREMIUM | -0.13 | +0.10 | +0.19 |
| OTHER | +0.43 | +0.52 | +0.25 |
| DIFFERENCE | 0.56 | 0.42 | 0.06 |

 

Year 11 2019-20*

| | | | |
| --- | --- | --- | --- |
|   | LOW | MIDDLE | HIGH |
| PUPIL PREMIUM | +0.7 | +0.14 | +0.68 |
| OTHER | +0.72 | +1.01 | +0.75 |
| DIFFERENCE | 0.02 | 0.87 | 0.07 |

3

There is an attainment gap at Grade 5+ and Grade 4+ EM between Pupil Premium and other pupils.

Year 11 2018-19

| | | |
| --- | --- | --- |
|   | 5+ EM | 4+ EM |
| PUPIL PREMIUM | 37 | 56 |
| OTHER | 55 | 73 |
| DIFFERENCE | 18 | 17 |

 

Year 11 2019-20*

| | | |
| --- | --- | --- |
|   | 5+ EM | 4+ EM |
| PUPIL PREMIUM | 54 | 74 |
| OTHER | 61 | 83 |
| DIFFERENCE | 7 | 9 |

 

Year 11 2020-21*

| | | |
| --- | --- | --- |
|   | 5+ EM | 4+ EM |
| PUPIL PREMIUM | 47 | 78 |
| OTHER | 65 | 89 |
| DIFFERENCE | 18 | 11 |

 

 

4

Progress made by High ability pupils has been less compared to Middle and Lower ability pupils under the Progress 8 measure (although this was not the case in 2018-19).

 

Progress made by Pupil Premium SEN pupils is less compared to progress made by other SEN pupils.

SEN 2018-21

| | | | | |
| --- | --- | --- | --- | --- |
|   | 2018 | 2019 | 2020* | 2021* |
| SEN PUPIL PREMIUM | -0.20 | -0.96 | +0.53 | -1.15 |
| SEN OTHER | +0.39 | +0.15 | +0.05 | +1.35 |
| DIFFERENCE | 0.59 | 1.11 | 0.48 | 2.5 |

 

 

6

Pupil Premium pupils are more likely to be persistently absent from school: they make up 28% of the school population but 37% of the PAs are PP%. Average attendance for PP (Autumn 1): 91.4%; Average attendance for Non-PP:  94.1%

 
Intended outcomes
This explains the outcomes we are aiming for by the end of our current strategy plan, and how we will measure whether they have been achieved.
Intended outcome

Success criteria

Improved Reading Ages for PP students, to enable greater curriculum access

Average Reading age for current Year 7 PP will catch up with non-PP students.

PP students will make same Progress as non-PP students in Year 7 and 8.

Improved Progress outcomes for Lower and Middle PP Attainers at Key Stage 4.

PP Lower and Middle Attainers will achieve the same P8 score as non-PP peers.

Departments and Pastoral Leads will track progress throughout Key Stage 4, putting in place clear interventions where progress is below expected.

Improved English and Maths outcomes for PP students at Key Stage 4.

PP students to match National Average for non-PP students at 5+ EM (44%) and 4+ EM (66%) in 2022.

Improved Progress outcomes for Higher Attainers (all students) at Key Stage 4.

High Attainers to achieve a Progress 8 score of at least +0.25 in 2022.

Improved Progress outcomes for SEND students at Key Stage 4.

SEN PP students to achieve a positive P8 score in 2022.

Improved Attendance rates for PP students, with a reduction in Persistent Absence.

PP Persistent Absence to reduce to below 30% of all PA by July 2022.
Activity in this academic year
This details how we intend to spend our pupil premium (and recovery premium funding) this academic year to address the challenges listed above.
Teaching (for example, CPD, recruitment and retention)
Budgeted cost: £300,000
Targeted academic support (for example, tutoring, one-to-one support structured interventions)
Budgeted cost: £100,000
Activity

Evidence that supports this approach

Challenge number(s) addressed

Literacy Pirates to be piloted in English

Use of PiXL Unlock to support academic language and vocabulary.

Tassomai online tutoring to be piloted in English (62 students identified by teachers)

 

Development of additional Intervention English and Maths group at Key Stage 4 to support learning in smaller groups.

All Year 11 students to be allocated an English or Maths tutor.

"Strive for 5" Maths conference for 20 PP students March 2022

 

Reading comprehension strategies can have a positive impact on pupils' ability to understand a text, and this is particularly the case when interventions are delivered over a shorter timespan:

Reading comprehension strategies | Toolkit Strand | Education Endowment Foundation | EEF

 

 

 

 

 

Tuition targeted at specific needs and knowledge gaps can be an effective method to support low attaining pupils or those falling behind, both one-to-one:

One to one tuition | EEF (educationendowmentfoundation.org.uk)

And in small groups:

Small group tuition | Toolkit Strand | Education Endowment Foundation | EEF

 

 

1

 

 

2,3,4,5

 

 

 

 

2,3,4,5

 

 

 

 

2,3,4,5

 

1,2,3,4,5

 

 

 

2,3,4,5

Unifrog to be piloted, to support Key Stage 5 students with UCAS applications; build an Alumni support network.

Disadvantaged students less likely to attend 'more selective' university courses | UCL News - UCL – University College London

 

NB Research into aspiration interventions is extremely weak, therefore we will carefully monitor the impact on attainment.

4

Remote Learning: laptops loaned to PP students without computer access at home

 

Children without internet access during lockdown | Children's Commissioner for England (childrenscommissioner.gov.uk)

 

2,3,4,5
Wider strategies (for example, related to attendance, behaviour, wellbeing)
Budgeted cost: £100,000
Total budgeted cost: £500,000
Part B: Review of outcomes in the previous academic year
Pupil premium strategy outcomes
This details the impact that our pupil premium activity had on pupils in the 2020 to 2021 academic year.
Our internal assessments during 2020/21 suggested that the performance of pupil premium pupils (current Year 11) was lower at Grades 9-5 English and Maths. EBacc entry is 46% for Disadvantaged pupils, our highest ever figure. 95% are entered for a Humanities Qualification.
Based on the 2021 TAGs, Disadvantaged Progress 8 score was +0.75 (a record). There was however a decrease in 9-5EM compared to 2021 CAGs, and this is therefore a focus of our 2021-24 plan.
Our assessment of the reasons for these outcomes points primarily to Covid-19 impact, which disrupted all of our subject areas to varying degrees. As evidenced in schools across the country, partial closure was most detrimental to our disadvantaged pupils, and they were not able to benefit from our pupil premium funded improvements to teaching and targeted interventions to the degree that we intended. During first lockdown staff hand delivered over 100 personalised work packs to students without online access. During full lockdown, the school provided laptops and technology for students without access (and continues to do so). This included 160 Webcams, Dongles and Mirrorcams.
The impact was mitigated by our resolution to maintain a high-quality curriculum, including during periods of partial closure, which was aided by use of online resources such as those provided by Oak National Academy and Seneca Learning. Staff underwent a comprehensive training programme to ensure outstanding online learning took place.
Overall attendance in 2020/21 for pupil premium students was 2.7% lower than non-pupil premium; Persistent Absence was 9.2% higher. These gaps are clearly a factor in the Attainment Gap, which is why attendance is a focus of our current plan.    
Our student surveys and pastoral interventions clearly showed that wellbeing and mental health were significantly impacted last year throughout our community, primarily due to COVID-19-related issues. The impact was particularly acute for disadvantaged pupils. We used significant amounts of our pupil premium funding to provide wellbeing support for all pupils, and targeted interventions where required, to ensure they are well and present in school. We are building on that approach in our new plan.  
Externally provided programmes
Please include the names of any non-DfE programmes that you purchased in the previous academic year. This will help the Department for Education identify which ones are popular in England
| | |
| --- | --- |
| Programme | Provider |
| English Maths and Science Revision Platform | Tassomai |
|   |   |
Further information
Additional activity
Our pupil premium strategy will be supplemented by additional activity that is not being funded by pupil premium or recovery premium, including:
·         embedding more effective practice around feedback. EEF evidence demonstrates this has significant benefits for pupils, particularly disadvantaged pupils.
·         offering a wide range of high-quality extracurricular activities to boost wellbeing, behaviour, attendance, and aspiration (see below). Activities (e.g., The Duke of Edinburgh's Award), will focus on building life skills such as confidence, resilience, and socialising. Disadvantaged pupils will be encouraged and supported to participate. 
Planning, implementation, and evaluation
In planning our new pupil premium strategy, we evaluated which strategies have had the most impact historically, whilst recognising the impacts of COVID on our disadvantaged students. For example, we reviewed the Reading Age tests and decided to switch providers to gain additional detailed information.
We used evidence from multiple sources of data, including assessments, Learning Reviews, book scrutinies, student voice and lesson visits. We also used our partnerships with other schools to discuss best practice.
We used the EEF's implementation guidance to help us develop our strategy and will continue to use it through the implementation of our activities.
We have put a robust evaluation framework in place for the duration of our three-year approach and will adjust our plan over time to secure better outcomes for pupils.
BARKING ABBEY SCHOOL ENRICHMENT OPPORTUNITIES AUTUMN 2021