Three generations of Maths teachers working together at Barking Abbey
School
13 Jul 2022
Mr Falzon
Mr Chokshi was one of the first students I taught at Barking Abbey when I stared teaching back in 1985. Ajay was in a Year 10 set 1 class of extremely bright students. It became apparent within a few weeks of teaching Ajay, that he had the potential to go far with his Mathematics. He was one of the strongest students academically, indeed on one exam that I set, I remember Ajay achieving 100%, which was very impressive as the exam was extremely difficult. Two years later, at the end of Year 11, Ajay then achieved the top grade at O level in his public exams. Ajay then decided to further his mathematics studies, by enrolling onto an A Level course at Barking Abbey. Again, he excelled and two years later went onto university to read Mathematics.
After completing his university education, the call of teaching mathematics back at Barking Abbey became too strong for Ajay and he then joined the school again but this time as a fully-fledged mathematics teacher. He quickly established himself as a well-respected teacher of mathematics. Even though Ajay was working with me, now as a colleague, he found it extremely hard to refer to me by my first name...it was always Mr Falzon as by then I had been promoted to Head of Mathematics within the school. Eventually, he did take a deep breath and called me 'Alf'.
I will be retiring this year after 37 years of teaching mathematics at Barking Abbey and I leave the school reassured that there is a legacy of excellent maths teachers, providing students with great life changing
opportunities. After all, that's why I became a teacher....to make a difference to young people.
Mr Chokshi
The year was 1985 and I was in Alf's 1st exam class, although to us it seemed like he had been teaching forever. His teaching style then was very much student orientated, slow and steady-careful to ensure we all understood. Lots of modelling and great classroom discipline. Thankfully, he maintained this same successful approach over the last 37 years and I am sure that my own teaching is heavily influenced by this.
He was one of our most popular teachers and we affectionately called him Action Man Head as he had a little more hair then, short and wavy. He bought a brand-new Vauxhall estate car, a luxury that was almost unheard of for teachers in the eighties but Alf made sure he got his money's worth… he was still using it 30 years later! He taught us not only maths but shared his experience of life too… pay off your mortgage early he would say to his class of 15 year olds…. Lessons for life and I listened too.
I have also taught a student that has become a member of the Barking Abbey School Maths department. Incredibly, Bushrah (Miss Salim) left Barking Abbey 10 years ago as a year 13 student. It seems like just
yesterday that she was the sitting in front of me as an enthusiastic young mathematician. Very mature from the outset, Bushrah was a delight to teach, never complaining about our 4 different maths classrooms, the chemistry lab, DT workshop and humanities were our adopted homes.
Bushrah managed to stop calling me sir a few years ago and is now a welcome addition to the maths team.
Miss Salim
Ajay taught me A-level Statistics in 2009 at Barking Abbey Sixth Form. As a student I always knew his lessons were engaging but never really appreciated how much work goes into prepping and planning such brilliant lessons. Only as a teacher, I have realised how Ajay's lessons were always planned to perfection!
One of my most memorable moments is when Ajay wrote his own A-Level Statistics textbook, which was a brilliant collection of model answers and methods. The whole year group was encouraged to read his
textbook and was definitely the most read book of the year at Barking Abbey School!
I have my A-level Maths teachers to thank for my interest to study Mathematics further at university and it has been a pleasure to work alongside them at Barking Abbey School - It has been a wonderful experience learning from the best!
Alf, well he hasn't aged a day!
Alf has always been an inspiration with his calm and collective approach to teaching. He has been very
supportive in helping me settle in and the advice from Alf has always been invaluable - whether its related to maths, teaching or life itself! He will be missed dearly within the department and the whole school and I wish him all the best with his retirement plans!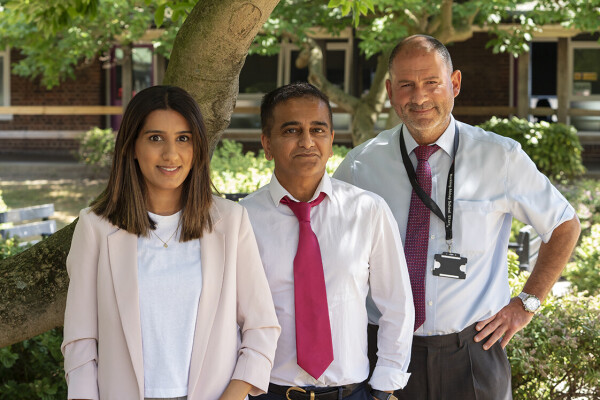 Miss Salim - Mr Chokshi - Mr Falzon